By XeroCube | May 10, 2009
Last week, some folks celebrated Cinco de Mayo on Friday… which would've been Ocho de Mayo, but I am not sure anyone was actually keeping track. There was a smorgasbord of food available for everyone and most was quite tasty. There was a peculiar gem on the dessert table though… the Margarita Cake.
I have never had one of these before, much less heard of it. Regardless of my ignorance, this was a phenomenal cake: moist, tasty, and satisfying.
I have been in search of a recipe for this cake and found, what I believe, was the recipe used for the cake I had. I wasn't expecting to find so many different variants on this idea. But here we go…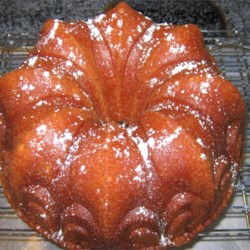 INGREDIENTS

* 1 (18.25 ounce) package orange cake mix
* 1 (3.4 ounce) package instant vanilla pudding mix
* 4 eggs
* 1/2 cup vegetable oil
* 2/3 cup water
* 1/4 cup lemon juice
* 1/4 cup tequila
* 2 tablespoons triple sec liqueur
* 1 cup confectioners' sugar
* 1 tablespoon tequila
* 2 tablespoons triple sec liqueur
* 2 tablespoons lime juice

DIRECTIONS

1. Preheat oven to 350 degrees F (175 degrees C). Grease and flour a 10 inch Bundt pan.
2. In a large bowl combine cake mix, pudding mix, eggs, oil, water, lemon juice 1/4 cup tequila and 2 tablespoons triple sec. Beat for 2 minutes.
3. Pour batter into prepared pan (Bundt pan). Bake in the preheated oven for 45 to 50 minutes, or until a toothpick inserted into the center of the cake comes out clean. Cool in pan for 10 minutes; remove to rack and pour glaze over cake while still warm.
4. To make the glaze: In a small bowl, combine confectioners' sugar with 1 tablespoon tequila, 2 tablespoons triple sec and 2 tablespoons lime juice. Mix until smooth.
Topics: Food and Drink | No Comments »
Comments